We Provide
You can customize your premises according to your needs, whether you prefer open-space or startup offices. We will oblige you.

Dozens of corporations are using our virtual domicile service, we manage their postage and telephone communications.

Our fitness and relax club is situated right in the same building, and it provides modern fitness equipment, cardio section, squash, sauna and fitness lectures.
IN KUTA CENTER YOU WILL FIND THESE SERVICES
RESTAURANT WITH A GARDEN

Every day we provide lunch-menu with Czech specialties. You can enjoy lunch in the garden. Available for your use is a private lounge.

BREAKFAST FRESH BAR

Part of the restaurant is also a fresh bar, where you can get a home-made baguettes or toasts, and with them also a freshly made fruit juices.
ACCOMODATION

Your workers or clients will surely appreciate the possibility of accommodation, straight on the company premises. For those situations, we can provide 4 well equipped rooms of hotel type.

NONSTOP RECEPTION AND FILING ROOM

A self-evident thing is a nonstop reception and a camera monitoring of both the premises and the parking space. The reception is constantly connected up to a central security desk, and also provides postal services.

PARKING

KUTA centrum has up to 140 parking slots available. Plus 10 more places for your customers, directly in front of our reception. Parking lot is secured by a gate.
KUTA CENTER HISTORY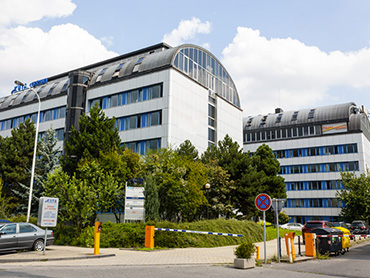 KUTA corp. was established in 1999, when it tied up the existing business relations of previous company, founded in 1991.
Chairman of the board is Ing. Martin Kuta, who is the biggest shareholder, Karel Svoboda - managing director and office manager Yvetta Halašková.
Kuta Company has a priority program of management and leasing of non-residential real-estate which it owns, and retailing parcels of land for development. Our other activities include real-estate services, advertising and promotional services, hotel services and running a restaurant on our premises.
KUTA corp. is a stable corporation that puts stress on providing quality products and services, which are used by more than 40 companies. We try to fulfill the needs of our customers, and to provide a complex service. Thanks to this approach to our customers, and despite high office space availability, our company has occupancy rate of more than 85% at present, and our full office capacity is 8 500 m2.

ARE YOU INTERESTED IN RENTING?
CONTACT US.